It's about women. It's about beauty. It's about time.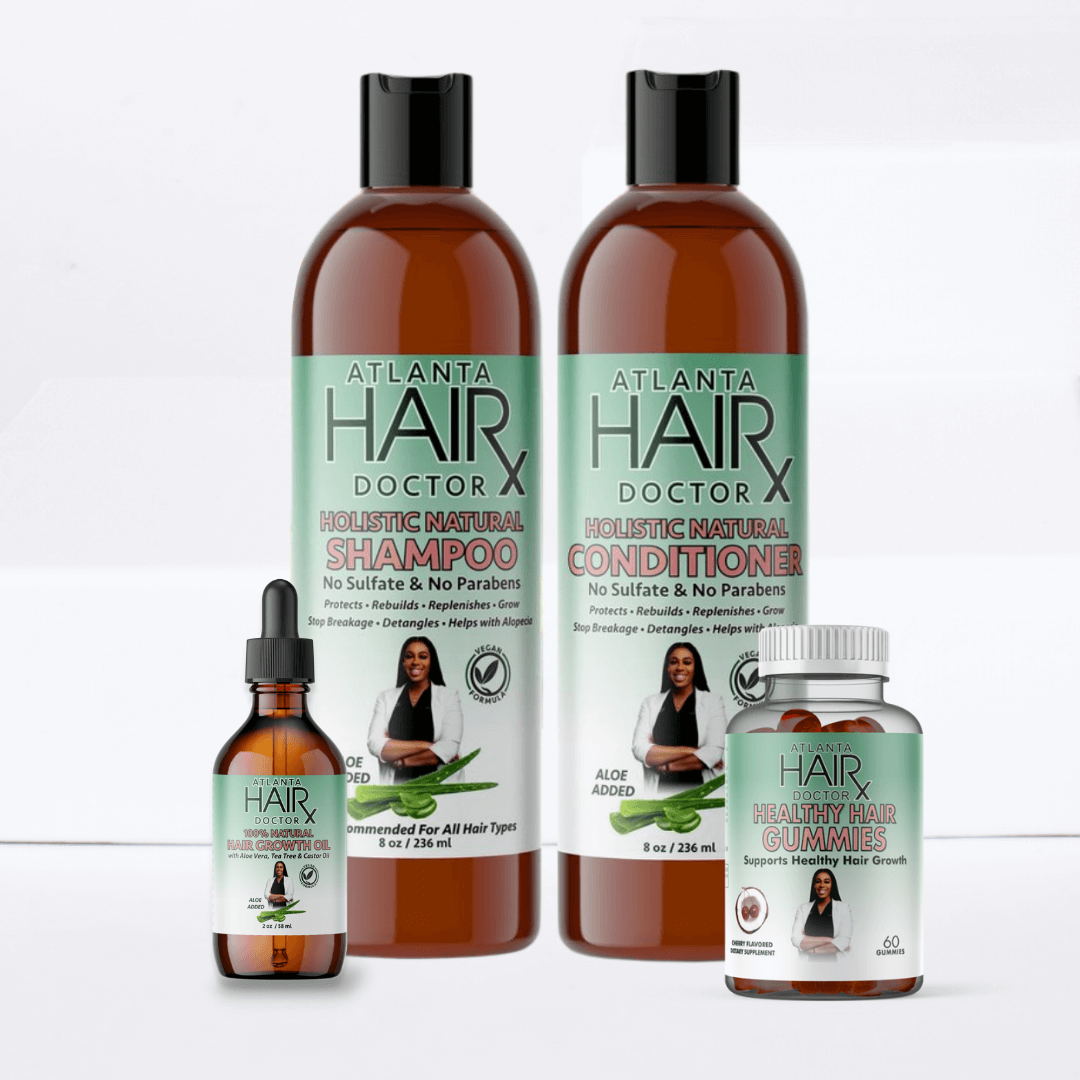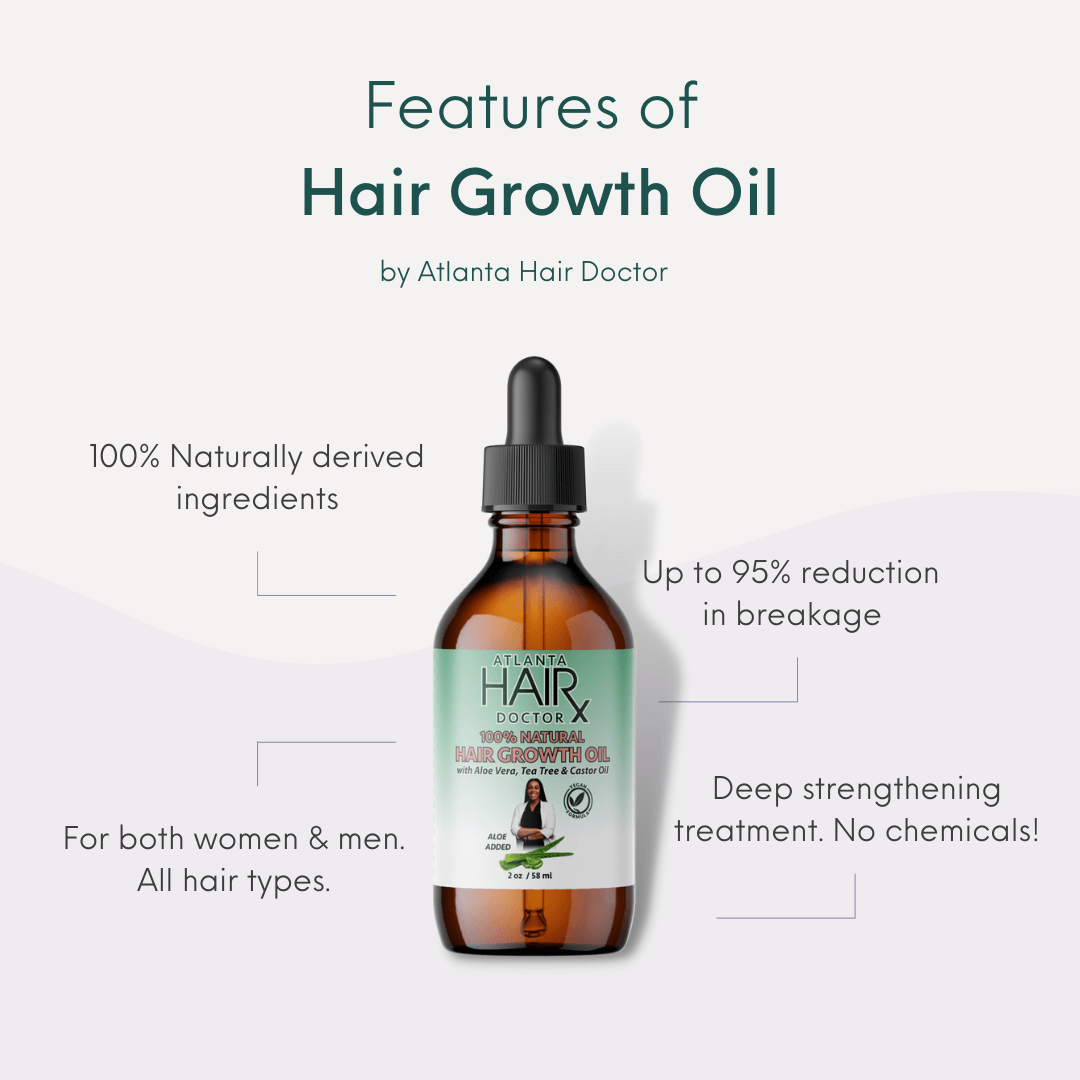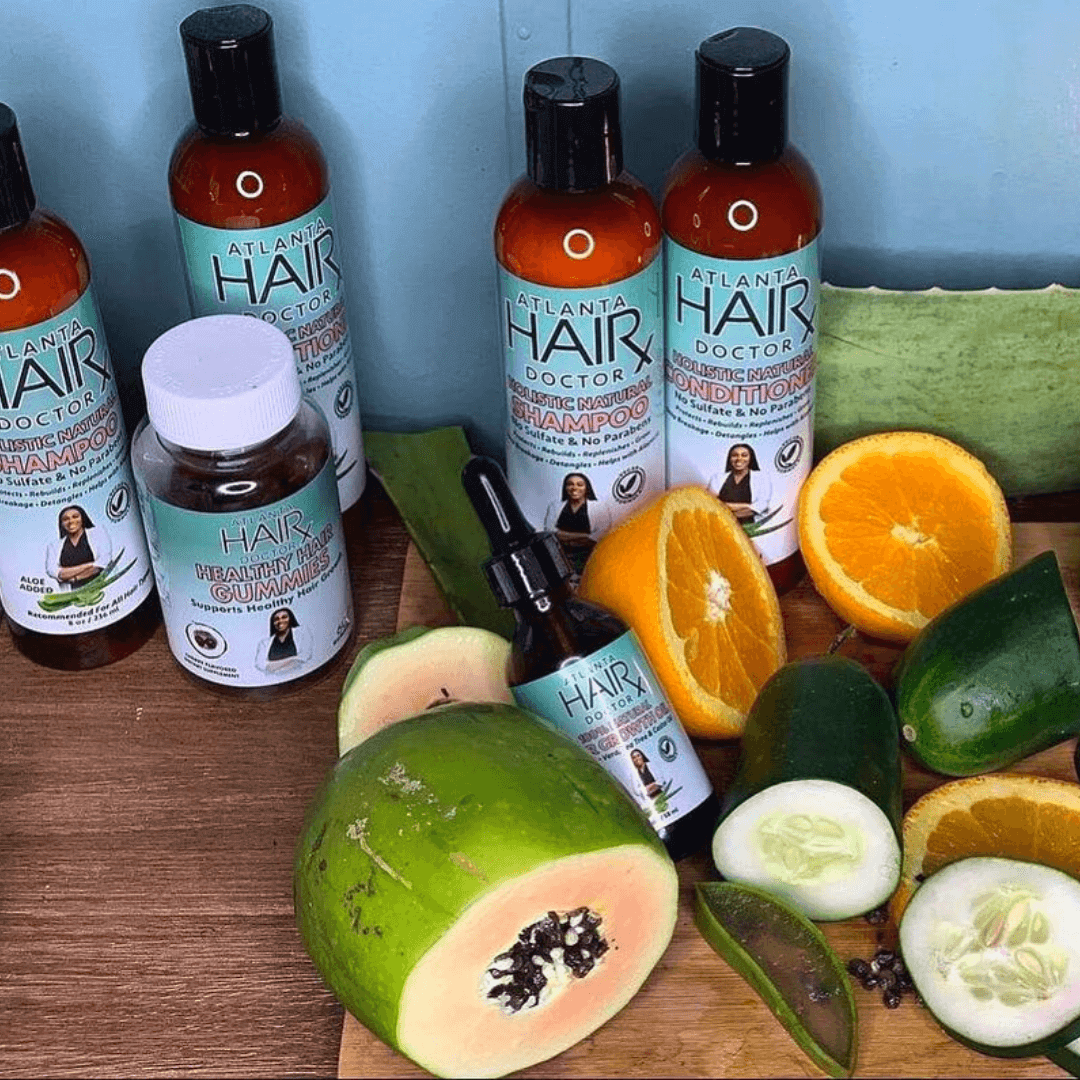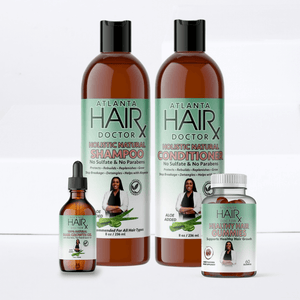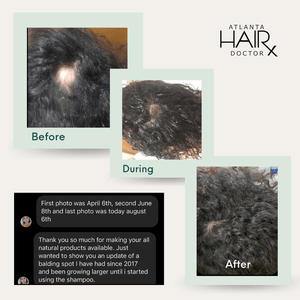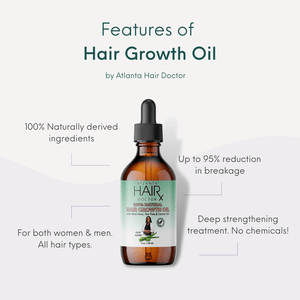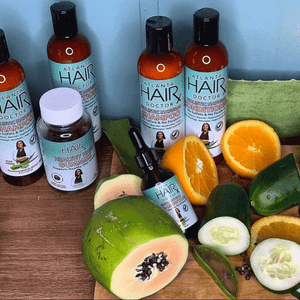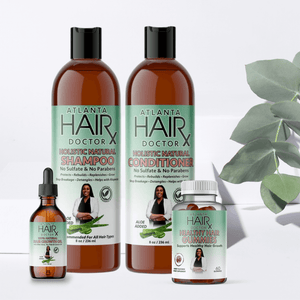 COMPLETE HAIR RESTORATION & GROWTH SYSTEM
1x Natural Shampoo
1x Natural Conditioner
1x Natural Hair Oil
1x Natural Hair Gummies
Protects. Rebuilds. Replenishes. Grow. Stop breakage. Detangle helps with Alopecia 
SHAMPOO
SHAMPOO
Holistic Natural Shampoo is designed to help with hair growth, alopecia, length retention, breakage, itchy scalp, thinning, shedding, curl pattern definition, dryness, frizz, irritated scalp, maintaining moisture and detangling.  Our sulfate free, vegan formula is developed with  yucca root, pumpkin seed, niacin and biotin to  strengthen and restore hair loss and scalp issues. Its rich lather removes build-up and DHT from the follicle while  leaving the hair soft, manageable and growing. In addition,  Holistic Natural Shampoo soothes and cools the scalp. Feel the difference after the first use. 
Directions: rinse hair, massage quarter-sized amount of shampoo throughout scalp and hair. Allow a few minutes (2-3) to absorb before rinsing. Follow with the Atlanta hair doctor Holistic Natural  Conditioner.
Atlanta hair doctor products are custom formulated and are hand mixed just for your hair. There isn't a one-size-fits-all approach because everyone's hair is unique. The science behind our system is to build a formulation based on the structure of your hair and then add mini insertions to address your own unique situation. The system works by combining three fundamentals to healthy hair:
Atlanta hair doctor blends customized products to address those needs whether your hair is coarse or fine, heavily damaged or virgin. One type of product only works on one type of hair. If you use a typical "natural" cleansing cream on a client with fine, virgin hair they will experience build up and limp hair that just doesn't look healthy. Keep your hair softer, shinier, and ability to go longer between washes.
 CONDITIONER

Extreme Growth. Creates Shine. Detangles. Softens. Smooths. Helps with Alopecia . Stops breakage. Fights Dry Scalp 

Holistic Natural Conditioner is an intensive treatment that stimulates follicles. It soothes dry irritated scalp, and encourages the flow of GROWTH. If you are struggling with scalp issues of any kind this will help you. It is infused with organic pure aloe vera, peppermint & argan oil and a blend of other vegan moisture rich botanicals that instantly revitalize and restore the scalp and hair. Light weight and will have your hair super clean without a build up or weighing art down. Moisture loss is prevented leaving the hair with a beautiful, healthy shine. Holistic Natural Conditioner restores hair is recommended for all hair types
Directions: After shampooing, massage a quarter -sized amount of Holistic Natural Conditioner throughout the lengths of your hair.
 Allow (5-10) to sit before rinsing.  

Chemical Free- No additives for maximum healing anti-inflammatory benefits. 100% naturally derived ingredients and essential oils. Free of sulfates, silicones, parabens, phthalates, mineral oil, petroleum and fragrance.

Hair & Scalp Deep Treatment Strengthening Serum - Collagen, Aloe Vera Oil, Castor Oil, and Vitamin E are infused with Essential Oils.

95% Reduction in Breakage - Pamper and repair your hair and scalp with this powerful blend of nutrient dense vitamins and essential oils. Increase shine & elasticity for faster hair growth.

For All Hair Types - Including Color or Keratin Treated, Permed, Natural, and Curly Hair. For men and women. Perfect to deliver botanicals to areas affected by hair loss, thinning, or alopecia (bald spot) including the hairline.

Best used with healthy hair vitamins and biotin hair growth products for fast regrowth, thickening and vibrance. Use with caffeine/coffee treatments for growing new hair and lengthening. Great overnight moisturizer after shampoo, conditioner, spray.
About the Atlanta Hair Doctor Gummies
THE BEST WAY TO TAKE YOUR BIOTIN GUARANTEED. Our natural, biotin gummies have a whopping 5000 mcg per gummy, and we guarantee you will love the taste or your money back. The best part is, these gummies are vegetarian, kosher, and have no gross ingredients like gelatin and are completely GMO-free. With only 15 calories per serving, you can enjoy the benefits of biotin, without wrecking your healthy eating plan.
AWESOME TASTE: Our strawberry gummies are a great and fun way to get your vitamin B7. Believe it or not, although healthy, this nutritional supplement does taste great! Delicious and so easy to take, it's literally like eating candy.
GET BEAUTY FROM WITHIN: A beauty routine that works from inside your body starts with the nutrients that your body produces naturally. Biotin plays a key role in keeping skin, hair, and nails in tip-top shape. Our extra strong biotin dietary supplement provides you with all the nutrients you need for rich, silky hair, strong nails and a vibrant, peach-like skin.
PRENATAL HEALTH: Your body breaks biotin down more quickly during pregnancy and biotin deficiency during this critical period is, actually, the norm. Biotin deficiency may lead to fatigue, depression and birth defects. Consult your physician and increase your biotin intake with our chewable biotin gummies.
BLOOD SUGAR AND METABOLISM BENEFITS: Biotin is essential for your metabolic process. This vitamin processes nearly every type of food that you ingest and it is thought to speed up weight loss, due to its clear effects on metabolic levels.
It is also largely responsible for keeping your blood sugar at healthy levels.
We designed our vitamins for those who were looking for easy to eat vitamins without the struggle of swallowing pills. Improve overall health & increase hair strength. 
Container Size: 60 Gummies (30 day supply)
PRODUCT FEATURES
Serving suggestion: Eat two gummies per day.
How it works: These completely delish, strawberry-flavored gummies give your body the extra boost of biotin it needs every day for healthy hair growth, stronger nails, and luminous skin. It's a tasty burst of berry in each bite. You'll feel like you're eating candy, but with none of the guilt. 
Just chew and swallow 2 gummy bears a day to get all the nutrients needed to meet your hair goals! Unlike the conventional large, gross vitamins, our gummies are easy to take and are gentle on your stomach. 
Key Ingredients: Biotin (vitamin B7)
COMMON QUESTIONS
How long will one bottle last? 30 days
Each container of Biotin 3000 contains 60 gummies or one month's supply.
When taken with a healthy, balanced diet, biotin has been shown to help promote stronger and thicker hair growth and nails, plus luminous skin. What are the side effects of too much biotin in the body?
Biotin, or Vitamin B7, is a water soluble vitamin, and no toxicity risk has been reported with biotin intake, even at fairly high levels. However, always consult a doctor or physician before adding vitamin supplementation to your diet. Gluten-free.
Atlanta Hair Doctor Gummies™ is proudly made in the USA.
Order Atlanta Hair Doctor Hair Gummies™ Now!
ALL ORDERS ARE FINAL-NO REFUNDS (On regular or discounted prices)!